Post by mlplaura on May 25, 2013 18:08:15 GMT
FATQ!:

That's "Frequently Asked Ticket Questions": www.freewebstore.org/UKPonyCon Q.Where do I get tickets?
Check out our store at the link below to buy all of your fabulous PonyCon goodness!
www.freewebstore.org/UKPonyCon
Q. What the heck is the goodie bag thing all about?
A. Well, seeing as though this is PonyCon's biggest year to date what with it being our 10th anniversary and 30 years of the My Little Pony line, we thought we would offer you lovely lot some exclusive PonyCon Anniversary goodie bags
(worth £15!)
for the first 100 people to either buy a Stall or a Weekend pass!
Q. AWESOME! I want one! But what do we get inside it? (If you don't want to know, skip to the next question!)
A. Inside each goodie bag you will get an exclusive PonyCon T-shirt designed by the super talented Tinrobo, an exclusive poster, PonyCon badge, Postcards, Keyring and a pony item of some form ... well, we have to leave a little mystery to the bags now don't we?!
Also, the bag itself is a printed cotton tote bag that Tinrobo is also designing! Perfect as your weekend pony shopping bag!
Q. Really?! All of that is included in our ticket price?! Cool! What tickets aren't included with this offer?
A. The goodie bag offer is only available with the Adult Weekend Pass and the 1 Day Stall Holder Pass and Weekend Stall Holder Pass. NO OTHER TICKETS.
Q. That's all very well and good, but can I choose my size of T-shirt that I get?
A. Yes you can! We're not doing any of that "one size fits all" rubbish as, as we all know, we all like our Tshirts fitting differently! So, when you go to either the listing for the Adult Weekend Pass, 1 Day Stall or the Weekend Stall Holder ticket, you'll see underneath there is a drop down menu to not only choose the size of your T-Shirt, but also the gender. We have also included an handy size chart for you on each listing, but because I'm nice, here's a version of it: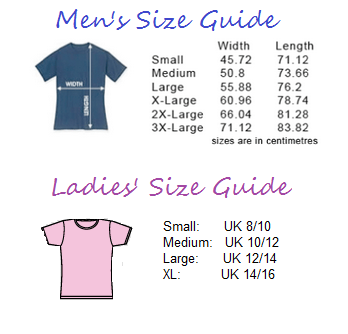 Q. What size are the stalls?
A. They are 6 foot wide by 2 foot deep. Plenty of lovely pony space!
Q. My child is going to be 5 or under when the con is, do I need to buy a child ticket for them?
A. NOPE! Any child 5 or under goes FREE to the convention all weekend!

Q. OK, Well, my child will be 12 when the convention is on, do they qualify for a Child or Adult ticket?
A. Don't fret! If they are 12 or under (but above 5) They qualify for a £10 child ticket! 13 and above is our adult ticket.
Q. What do I get for my weekend pass?
A. Your weekend pass covers your entry into EVERTHING PonyCon, all panels, screenings, games, events you name it, you can come to it! Please check our website and forum for a constantly updated schedule!
Q. How many stalls will be available?
A. We have 45 Weekend Stalls available and 10 1 Day Stalls on each day. this isn't including the stalls from our sponsors My Little Customs, Mare Play and of course all of the UK PonyCon stalls too so you have even MORE to look forward to! Links to their websites below:
www.mylittlecustoms.com
www.mareplay.co.uk
Q. Can I have a stall on both days? Is there a discount for buying a stall both days?
A. Yes you can and yes there is! A 1 Day stall with Weekend Ticket is £40 and a Weekend Stall with Weekend Ticket is £50, so that is a massive
£30 SAVING
if you buy a weekend ticket rather than buying two separate stall tickets!
Q. Can I buy tickets on the door? Can we do that both days?
A. Absolutely! All tickets are also available to buy on the door apart from
Stall Helper Ticket
the
Weekend Stall Ticket
and
1 Day Stall Ticket BOTH SATURDAY AND SUNDAY
which need to be bought in advance via our webstore. All others are available to purchase on the door.
Q. Will there be a 'members day' and a 'main day'? Are the ticket prices the same for both days?
A. This year we are NOT holding a members day, instead, seeing as though it is such a big year for us, we are extending the party to a FULL weekend! 2 full days of Pony Goodness! As for ticket prices, they are absolutely the same for both days no matter which day you want to come, we do also have a great value weekend ticket for everyone who is coming to both days! there is NO main day for this event, each day is equal this year!
Q. Does my stall price include an adult entry fee?
A. YES IT DOES!
All stall prices include an adult WEEKEND pass for the stall holder! As a stall holder you also have the option to purchase a discounted "Stall Helper" ticket if you have someone who wants to give you a hand on your stall for the weekend. They are also a Weekend Pass and they are £18 instead of £25 for helpers. Only 1 discounted helper ticket per stall.
Q. I want to attend both days but only have a stall 1 day - which ticket do I buy?
A. The 1 Day Stall ticket would be perfect for you as it gives you a stall for the day of your choice (either Saturday or Sunday, please specify when booking!) but in that price it also includes a Weekend Ticket. PERFECT!
Q. I am disabled and have a carer to assist me - can they have a free ticket?
A. Of course! If this is the case, please email us at UKPonyCon@googlemail.com with your request and we shall sort it out for you!
Q. I want a friend/family member to help me on the stall but they are not interested in ponies - do they have to buy a ticket?
A. Yes they do, but this is why we have created our discounted "Stall Helper" tickets! They are £18 instead of £25 for the weekend and can be added to your stall purchase on checkout. PLEASE NOTE: The "Stall Helper" tickets are NOT available to purchase on the door.
Q. How will I receive my tickets? Will they be sent to me?
A. Once you have checked out through our online store you will be sent and email with a confirmation number, keep a hold of this email/print it out and bring it along with you. As long as we have your surname and your order number we will have your ticket ready and waiting for you on the door
Q. This is all well and good, but I have another question, can you help?
A. Have no fear, any other questions please either pop them into the
comment section down below
, PM them to our lovely chairlady
Archer
or contact us in any of the ways that are listed below, and we will do our very best to help!
Email: UKponycon@googlemail.com
Facebook: www.facebook.com/PonyCon
Twitter: www.twitter.com/UKPonyCon

So, the BIG question is, WHO'S READY FOR PONYCON?!
Love the UK PonyCon 2013 Committee xxx