Post by sparkler on Jul 2, 2016 11:38:59 GMT
KAPOW! The UK PonyCon Classic is back! Things in a Jar!

We are now starting to accept donations for our all-time UK Ponycon classic game
'THINGS IN A JAR'
And for those who don't know what 'The Jar' is, just scroll down and have a look at the awesome jar from 2014! The jar returns in 2016 and all manner of lovely pony goodness will be up for grabs to the one lucky winner who can get the closest guess to how many things are in the jar!
So, what are we looking for, to be donated to the jar?:

Good quality uncommon accessories are the basis to this jar.
No-one wants to win a jar full of junk! So, here are our requirements for items donated to 'Things in a Jar'
WHAT WE ARE LOOKING FOR: * AWESOME STUFF.
Rare bits of cool G4 merch, awesome G1, G2, G3 merch, G1 Pamphlets and anything that's a little bit odd.

* G1 Baby Accessories
such as cribs, bassinets, strollers, necklaces, teething rings, duck toys, changing tables, bottles, nappies, Glow Worms for FT babies and anything like that would be awesome!
* G1 Sea Pony and Baby Sea Pony Stuff!
Floats would be awesome! Also, adult Sea Pony shells totally fit in whole.
* G1 Big Brother, Princess and Rare Pony Accessories:
We are DESPERATE for some of these! Hats, bandanas, princess hats, wands, nurse hats, rockin beat guitars etc are super awesome and really get people excited!
* FRIENDS/CRITTERS!
Who doesn't like Critters? So anything like that - G1 Princess Dragons, Bushwoolies, Brandy, Duck Soup, G3 and G4 critters etc would all be an amazing addition!
* Brushes and Combs!
We love them!!!

* Styling sized G4's
Seriously, a whole pony can fit in this thing! So if you have a cool pony that you would like to put in the jar, drop me a line!

* Funko Mystery Mini G4's
Just because they are awesome and we love them!!!
* Blind Bag G4's
Preferably AWESOME ones too - but anything goes here.
* G4' My Little Pony CCG
Booster packs, desk boxes/sleeves and rare/foil cards!
WHAT WE'RE NOT LOOKING FOR:
*
Common playset accessories:
Things like G1 show stable, grooming parlour etc. The same goes for G3 and G4 Playset accessories.
* G1 Common Pony Wear:
Please, no legwarmers, shoes and other really really common pieces. Baby Pony Wear is always popular! Full sets are also very welcome - but a couple of random bits are always fine too!

* Anything broken:
I know I don't have to tell you guys this as you guys are smart.
Some inspiration for all of us - a jar of the past! - Feast your eyes on the pony-tastic jar goodness from UK Ponycon 2014!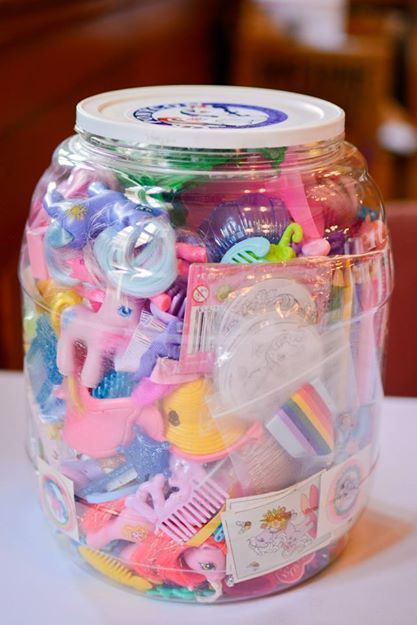 (This picture is just an example, this is the amazing Jar from 2014. This years Jar will contain completely different items).
Please pm me
sparkler
, or email ukponycon@googlemail.com about details about how and where to send your donations xx
Thank you very much!
Don't forget we are will be looking for Charity Auction Donations in a little while and always need pony related things for little prizes too - feel free to bundle them and send them all at once to save on postage! We reserve the right to use certain items in a different way if we feel they would be better somewhere else - it will all benefit UK PonyCon in the end (or our chosen charity if it is an auction item).