Post by lightingflash on May 5, 2017 19:35:13 GMT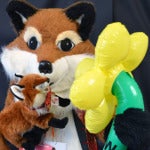 The venue announcement comes as very bad news to me. To attend in costume at any event I require either the event to be held at a hotel or very, very close to one so walking to event and back from hotel room is practical. I use the hotel room as a base of operations. With it being a quiet place to cool off, a lockable place where my costume or clothes will be safe, a place with unlimited water so don't pass out and a place with a shower (in costume I like to have a very quick shower every couple of hours of use ish) It being held at a location where the nearest accommodation is about 15 minute walk along busy roads means this doesn't look even remotely possible to me to do. I promised a lot of people I would be attending at last year's event and I feel very, very sad to be letting them all down but I see no way this fox can attend at this venue in costume (I'm sure it's probably a lovely place for others but for me the impossible difficulty of using my costume there just wouldn't make it fun and the cost to go to the other side of the country is too high to be worth it to me without being able to do that).
If it had been at or next to a hotel as it sometimes is I definitely would have been there as I had planned (no matter where it was in the country) but, given where the event is, I just want to say a sincere sorry to all those I promised last year I would be there that I will not be attending this year. I truly was looking forward to going more than anything and feel very, very, very sad to be saying this (especially as it's now too late in the year to arrange any other holiday I want to go to). Still, I want to give my thanks to everyone involved in setting this up for the hard work I'm sure they went to on our behalves but I understand venue can't always be ideal for everyone and sadly I feel it couldn't be much worse for me as far as I'm concerned.
I'm now off to draw some art of my favourite pony Fluttershy
cuddling a fox to cheer myself up, that always works
Sorry everyone again who I promised I'd be there, I hope to see you all again at a future year's conventions and I hope you all have a wonderful time at the convention this year.
JD
that is sad news if it helps I would of been happy to drive you to and form the hotel a couple of times